Shop now:🛒
💚 Tokopedia  : Numark Partymix
❤️ Bukalapak  : Numark Partymix
🧡 Shopee         : Numark Partymix
Intuitive DJ Controller with Built-in Light Show and Included Software
The Numark Party Mix is an easy-to-use DJ controller that makes it a breeze to connect to your laptop and perform your favorite songs. When you use the included Serato DJ software, you can use this 2-channel controller to create your own mind-blowing mixes — no matter your skill level. Each deck of the Party Mix has four performance pads with four customizable modes to let you trigger your favorite samples or create custom loops. The Party Mix even lets you quickly search your computer's track library from the controller's browser knob, so you never have to take your hands off the controls. The Numark Party Mix makes it easy for anyone to play great sets right out of the box.
Perfect for parties
The Party Mix DJ controller is ready to wow your audience as soon as you plug it in. Setting up the controller at a party is simple: just plug the Party Mix into your computer, plug the speakers into the Party Mix, and you're ready to go. The controller's intuitive layout makes it simple to adjust cue gain, speaker gain, treble and bass, and fade from one track to the other without hesitation. You can even hit the Scratch button to turn the jog wheels into scratching wheels.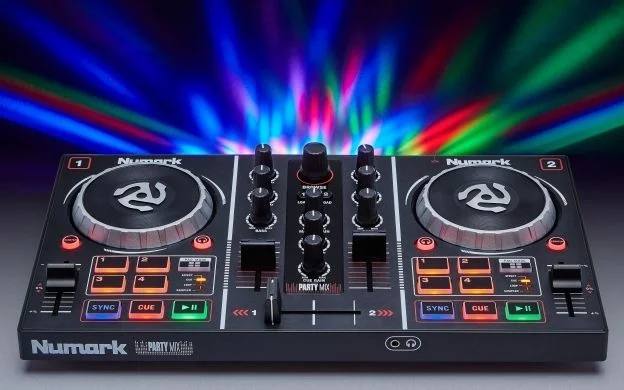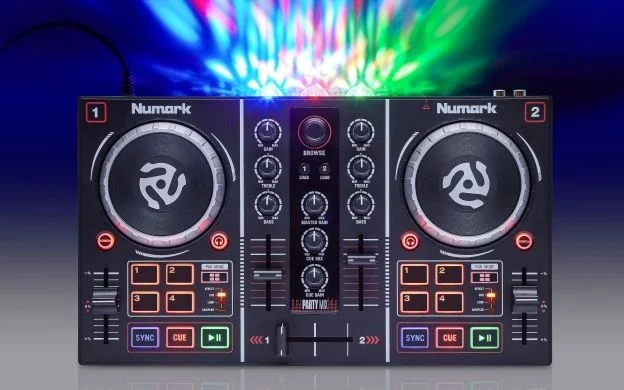 Versatile performance pads
Each deck of the Party Mix has four multifunction performance pads to suit your needs. When you tap the Pad Mode button, you can select one of the four modes to change the functions of your pads on the fly. Cue mode lets you trigger pre-programmed or custom hot cues. Loop mode triggers loop sections in 8-, 4-, 2-, and 1-bar phrases. Sampler mode plays sounds that are stored in your virtual DJ's sampler. Effect lets you customize the controller's effects to suit your unique needs.
With the range of options available, you'll be sure to wow your audience every time you hit the DJ booth.
LED Party Balls set the stage
If you want to add lights to your set, look no further. The Party Mix's three LED Party Balls let you add extra hype to your show without having to spend extra cash on costly lights. The RBG LED balls have five modes: color-controlled (default when switched on), beat-controlled, fixed-timing random, all on, and off. When the DJs at Sweetwater got their hands on the Party Mix, they raved about how the pre-programmed lighting modes made their performances more dynamic.
With such a large amount of sonic and visual flexibility, the Numark Party MIx is a great option for any DJ who wants to add lights to their show without having to lug around extra equipment.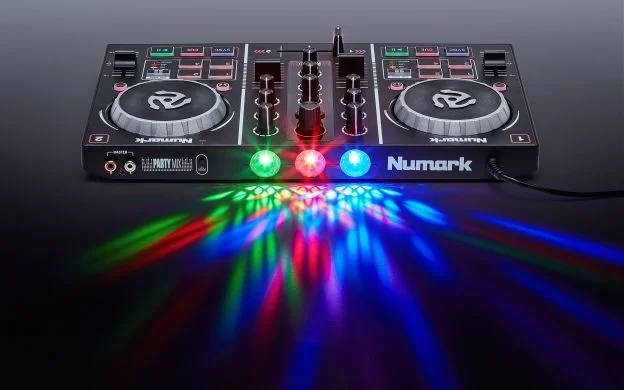 Numark Party Mix DJ Controller Features:
2 jog wheels and intuitive controls keep your workflow clean
Built-in LED light show for small venues
5 LED modes
4 pad modes for looping, sampling, effects, and cueing
Auto loop function creates 8-, 4-, 2-, and 1-bar phrases
1/8″ headphone jack for cueing tracks
Includes a download of Serato DJ Lite
RCA stereo output
USB connection to computer