Fully Loaded Guitar Interface — Complete with AmpliTube 4
Every knob, feature, and component on the IK Multimedia AXE I/O USB recording interface was carefully selected for the demanding guitar and bass player. A JFET input with continuously variable Z-Tone impedance, alongside switchable settings for active and passive pickups, provides the ideal front end for each of your instruments in the included AmpliTube 4 Deluxe suite. Transparent converters and a low-jitter clock deliver your performance in full 24-bit/192kHz hi-fi to the included Ableton Live 10 Lite suite or your DAW of choice. And features such as an onboard tuner and a dedicated re-amp output make the AXE I/O the only piece of gear you'll need on your desk. Factor in 140 amp, cab, and stomp models and an in-line mix rack of 10 built-in T-RackS FX Singles (EQ, compression, reverb, and mic modeling), and with the IK Multimedia AXE I/O from Sweetwater, you've got all you need to translate your riffs and ideas into polished, marketable productions. A professional-grade headphone amplifier completes the package.
A Powerful Guitar Front End
JFET mojo. PURE clarity.
Pedal builders and recording engineers have long known the punch and harmonic sweetness running a JFET preamp into an amp can impart. If you're looking to add some analog mojo to your digital amps and stomps, the AXE I/O's JFET input stage can help. On the other hand, if you're looking for maximum clarity and headroom, AXE I/O's switchable PURE circuitry nets you accuracy and clarity with 117dB of dynamic range.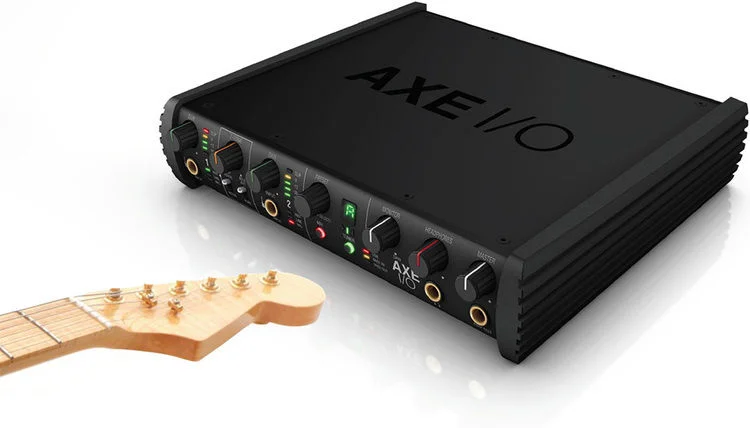 For active and passive pickups
Whether you play vintage singles or modern active humbuckers, the AXE I/O yields the best results for every guitar in your collection.
Variable Z-Tone impedance
One of the AXE I/O's defining features is its Z-Tone variable impedance. This control allows you to shape the tone of your guitar to best suit every amp and stomp model in your virtual amp collection.
A Comprehensive Recording Solution
Class A mic preamps
A pair of Class A mic preamps equips the AXE I/O for full-fledged song production. Onboard +48-volt phantom power readies these preamps for today's condenser mics.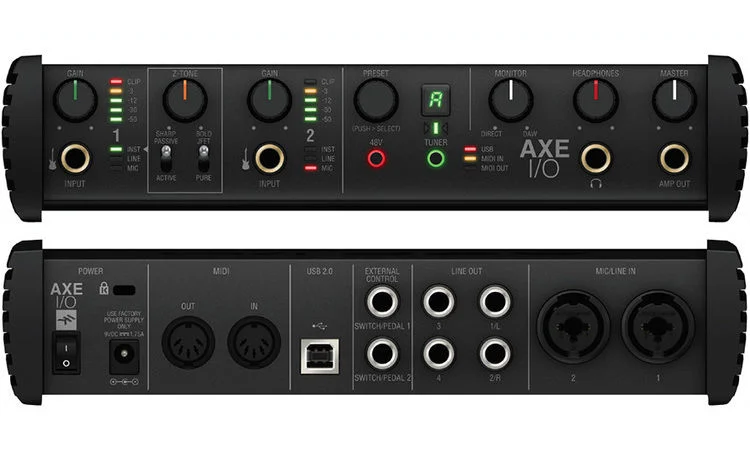 Transparent digital conversion
The challenge in guitar modeling is accurately capturing the instrument's nuance and dynamics on the way in. The AXE I/O's onboard 24-bit/192kHz are more than capable of translating the attack, definition, and frequency response of your guitar or bass into the digital environment.
Low-jitter clocking
Likewise, the AXE I/O's accurate clocking keeps your performances free from artifacts for cleaner tracking and tighter mixes.
High-current headphone amp
A reference-grade headphone output in the AXE I/O is your ticket to mix translation and more enjoyable practice sessions.
A Generous Software Suite
AmpliTube 4 Deluxe: 140 virtual amp chains at your disposal
In the AXE I/O's included AmpliTube 4 Deluxe software suite, 140 class-leading amp models, virtual stomps, and cab IRs are at your disposal. British to American, squeaky clean to filthy rotten, decades of monster tone await you in AmpliTube 4. The robust Cab Room is the most realistic-sounding and -feeling miking application IK Multimedia has ever offered. You can even change the individual speakers in the different speaker cabinets. A Custom Shop program even lets you add the gear you want as you need. Whatever style you gravitate toward, IK Multimedia's AmpliTube 4 Deluxe is your one-stop shop for top-quality guitar and bass tones. You can scroll through AmpliTube presets (and many other software titles) from the front panel for the ultimate in convenience.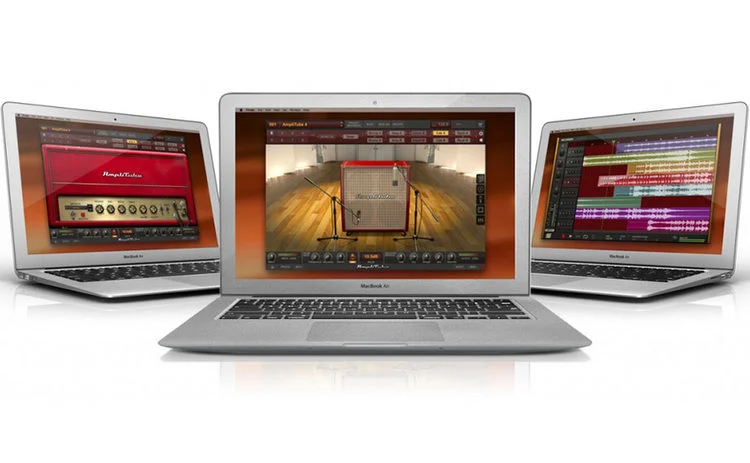 Mix rack with 10 T-RackS Singles
An in-line mix rack preloaded with 10 of IK Multimedia's T-RackS FX plug-ins put the AXE I/O guitar interface in a class all its own.
Ableton Live 10 Lite license
No DAW? No problem. AXE I/O's included Ableton Live 10 Lite recording software will have you multitracking and layering like the pros.
Loaded with Extras
Onboard tuner
A tuner is never where you need it. The AXE I/O sports a simplified tuner right on the front panel to keep you sounding your best, whether you're tracking or woodshedding.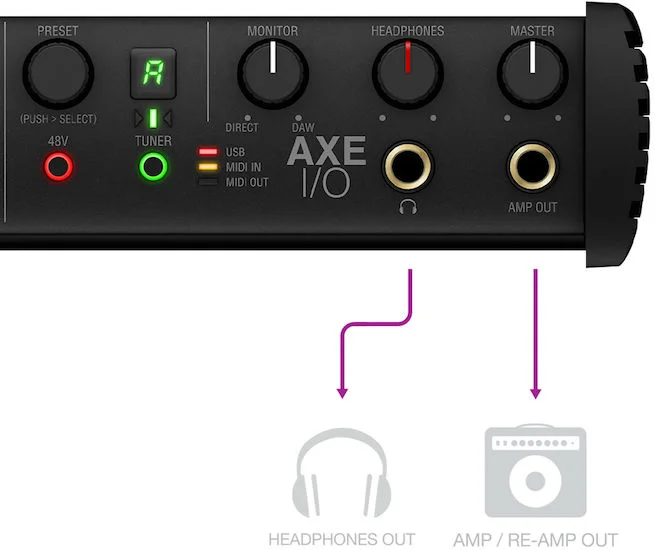 Dedicated re-amp output
Want to send your direct tone out to a real amp or stomps down the production line? Want to monitor yourself through a live amp as you track for accurate response and feedback? The AXE I/O's dedicated re-amp out makes it possible. No complex routing required.
Dedicated controller inputs
A pair of dedicated controller inputs allow you to connect up to two expression pedals or two single/double switches for controlling AmpliTube or other software in real time.
IK Multimedia AXE I/O USB 2.0 Recording Interface Features:
A robust 24-bit/192kHz guitar recording interface — the ideal front end for your virtual amps
A comprehensive tracking solution — great for turning those riffs into songs
Includes AmpliTube 4 Deluxe, 10 T-RackS Singles, and Ableton Live 10 Lite recording software
JFET input stage adds analog mojo to your incoming guitar/bass signal
PURE input stage offers 117dB of headroom and clarity
Switch for passive and active pickups
Z-Tone variable impedance optimizes your instrument for AmpliTube's virtual amps and stomps
2 Class A mic preamps with +48-volt phantom power make the AXE I/O a full-fledged production tool
Accurate clocking; transparent conversion
Onboard tuner keeps you sounding your best
Dedicated re-amp output lets you re-record or live monitor through a live amp
Control your virtual rig with assignable preset knob
2 inputs for single or double footswitches and expression pedals
Untuk pembelian melalau Marketplace kita bisa melalaui ;
Tokopedia ; https://www.tokopedia.com/zealmusik/irig-axe-io-high-end-sound-meets-guitar-tone-zealmusik-jogja
Bukalapak ; https://www.bukalapak.com/p/hobi-koleksi/musik/sound-system-rekaman/1d07429-jual-ik-multimedia-irig-axe-io-guitar-audio-interface-zeal-musik-jogja?from=product_owner&product_owner=normal_seller