Stackable 8-channel USB-C Interface with ADAT Out
For an 8-channel USB-C interface with choice features and premium componentry — or as a convenient way to add eight channels of sterling audio to your current setup — consider the Arturia AudioFuse 8Pre. The 8Pre comes fully loaded with eight Discrete Pro preamps, designed by Arturia and built from the ground up, to provide an ideal front end for today's project studio. Class-leading conversion and clocking with 129dBu of S/N and 119dB of dynamic range equip this interface for modern metal to string quartets. USB-C protocol yields a rock-solid connection and lightning-fast round trip. And eight channels over ADAT means you can easily stack two 8Pres for 16 inputs or inject its dependable signal path into a compatible interface. Adding value Arturia's AudioFuse 8Pre's included Creative Suite software pack, which offers some pretty significant sound-shaping and musicmaking options.
Related Videos: AudioFuse 8Pre USB Audio Interface
Included AudioFuse Creative Suite
Adding serious value to the AudioFuse 8Pre is Arturia's included AudioFuse Creative Suite. For the last 20 years, Arturia has been creating impressive software emulations that are used by producers around the world. The 3 Preamps bundle is your ticket to component-correct vintage analog coloration and sweetening on any recorded source — beefy bass drums to sparkling acoustic guitars and perfectly present vocals. An intro version of the Arturia's Analog Lab nets you a comprehensive collection of sought-after synth sounds, made all the sweeter by the Mini Filter's Moog-ish ladder filtering and step sequencing. You also get sweet digitization of a prized analog delay and a vibey 76-type compressor to make drums and bass come alive. Also onboard are a trio of vintage modulation effects. Take it from Arturia users at Sweetwater: the Creative Suite's plug-ins will find their way onto just about any project you take on.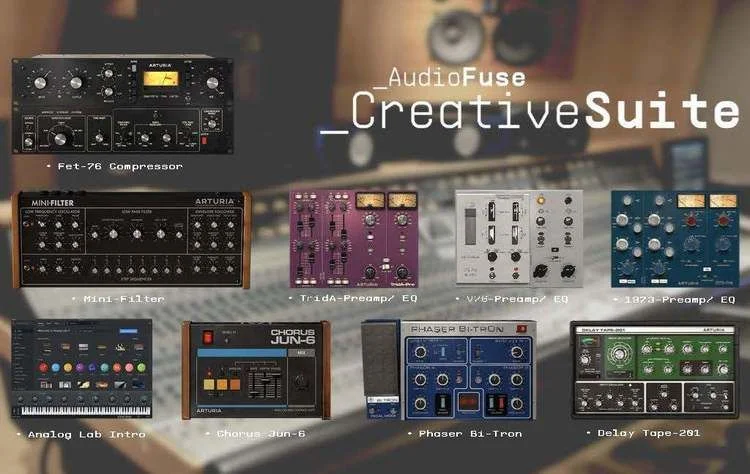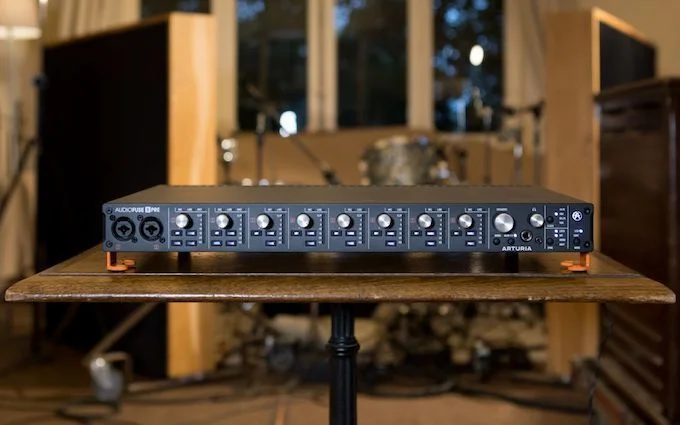 Arturia AudioFuse 8Pre 8-channel USB-C Audio Interface Features:
Stackable 8-channel USB-C Interface with ADAT Out
Premium componentry
Choice analog and digital signal path
Class-leading conversion and clocking
129dBu signal-to-noise ratio — among the best in its class
119dB of dynamic range — accurately capture heavy-hitting rock bands to delicate symphonic music without added noise
ADAT optical out — stack two 8Pres or deliver 8 channels of digital audio over Lightpipe
Plenty of I/O for interfacing with other gear in your studio
Includes Arturia's AudioFuse Creative Suite software pack
Fully USB 2.0 compatible
Tech Specs
Computer Connectivity:

USB 2.0

Form Factor:

Rackmount

Simultaneous I/O:

8 x 8 (analog), 16 x 20 (total)

Number of Preamps:

8

Phantom Power:

Yes

A/D Resolution:

24-bit/96kHz

Effects:

AudioFuse Creative Suite Effects

Analog Inputs:

2 x XLR-1/4″ combo (Hi-Z), 2 x XLR-1/4″ combo (Hi-Z/mic/line), 6 x XLR-1/4″ combo (mic/line)

Analog Outputs:

2 x 1/4″ (main out), 6 x 1/4″ (line out), 2 x 1/4″ (speaker)

Digital Inputs:

2 x Optical (ADAT)

Digital Outputs:

2 x Optical (ADAT)

Inserts:

2 x Inserts (ch 1, ch 2)

Headphones:

1 x 1/4″, 1 x 1/8″

USB:

1 x Type C

Clock I/O:

In, Out

Software:

AudioFuse Control Center

OS Requirements – Mac:

OS X 10.8.5 or later

OS Requirements – PC:

Windows 7 SP1 or later

Rack Spaces:

1U

Power Supply:

15V DC power supply (included)